First Nations Peacekeepr/Security Guard Course
This online course prepares you for your Ontario guard license exam. This course also certifies you as a security guard for federal properties.
Who should register
Want to obtain an Ontario guard license.
Those who work on properties legislated by the Federal government.
Why take this course
This course is a combination of the Ontario Provincial Security Guard Licencing course and the Federal Canadian General Standards Board Guard Program for all Federal properties.
This course adheres to National Standard CAN/CGSB-133.1-2017
Proof of this training will permit you to work on any Federal government property as a security officer.
Q: Will I obtain a license at the end of this course?
A: Those who wish to obtain Provincial licensing at the end of this course will be given a Ministry generated number so you can attend the local license testing office ( the same one used for driver's licenses and license plates) and write the Provincial exam. The Province will then issue you a license as a guard so you can work legally anywhere in Ontario.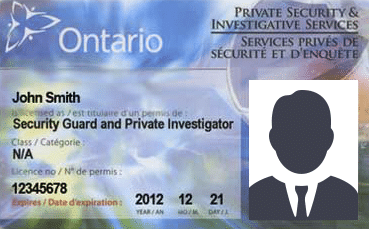 Q: Is First Aid/CPR included in this course?
No. You will need to obtain that separately.
Technical requirements for taking this course: Persistent internet connection. Latest version of Google Chrome, Firefox, Microsoft Edge, or Safari. Javascript enabled.
Tuition
Plus applicable taxes
When you choose to register, you will be directed to the checkout page. Once your payment has been received, you will receive an email with your course login information.
Your Instructor
Burgess and Associates are approved and licensed Vendors of Record (V.O.R.) for the Government of Ontario to train M.L.E.O.s (Municipal Law Enforcement Officers) and P.O.O.s (Provincial Offences Officers) for all Ministries and Provincially funded agencies that use the V.O.R. system to obtain training for their officers.
The course is designed and developed by a Superior Court Recognized "Subject Matter Expert" in the training of Municipal Bylaw and Enforcement Officers, Provincial Offences Officers, Police and Special Constables in Ontario. Copies of transcripts from these court credentials are available upon request.